DCM-PRO System – Low Wattage
The DCM-PRO System is the perfect heated decoupling system for low wattage projects of 55W/ m². It can be installed in minutes with less tile adhesive required.
Ideal for heating entire homes with low load supplies
A great system for homes that have limited power supply – allowing you to heat your home whilst simultaneously using other appliances.
Made for low heat loss homes
The DCM-PRO Low Wattage System is best suited for well insulated homes where heat losses will be less or equal to 50W/m² on average.
Great to use with solar panels and batteries
The low load requirement of this system makes it perfect for use with solar panels and batteries, with little, or no power being required from the mains grid when heating.
Anti-Fracture Protection for Tiled Floors
The DCM-PRO Heated Decoupling System is an advanced electric underfloor heating system that is proven to protect tiled floors from any potential damage caused by lateral subfloor movements, as tested to ANSI 118.12:5.4 (American National Standards Institute).
55W/ m² Output – Ideal for Homes with Low Load Supplies
The DCM-PRO Low Wattage System features an output of 55W/m², making it ideal for use in homes with low load supplies and low levels of heat loss. If your property has a reduced Amperage supply from the grid, running a standard 150W/m² electric floor heating system could leave little power for other electrical appliances in your home. Swapping from a standard 150W/m² system down to a correctly sized 55W/m², would free up Amperage for other appliances in your home whilst the underfloor heating is on – such as your kitchen devices or an electric car charger. The low wattage DCM-PRO offers a flexible heating output of between 41.3 – 82.5W/m² – allowing you to tailor the system for your power requirements.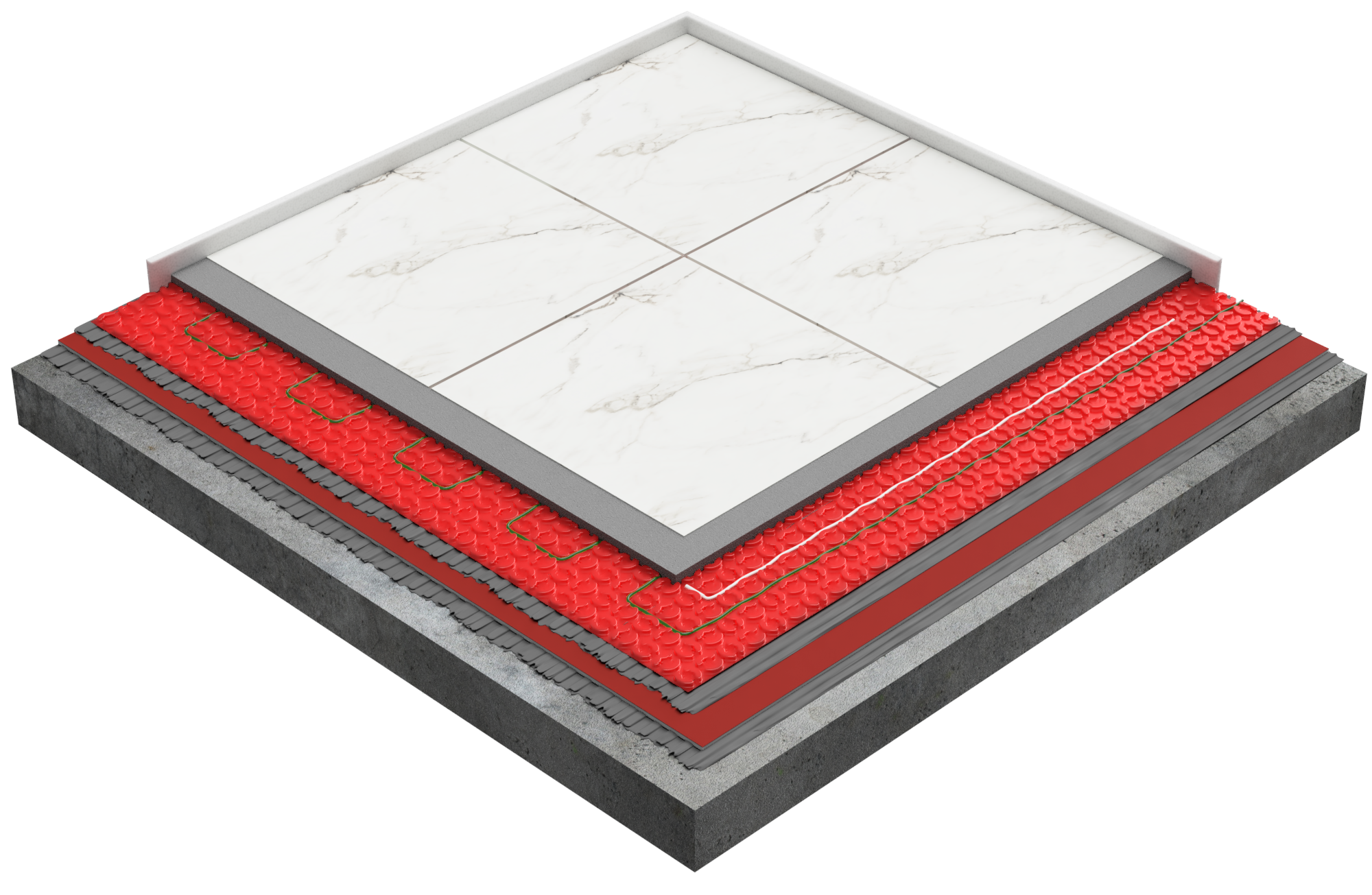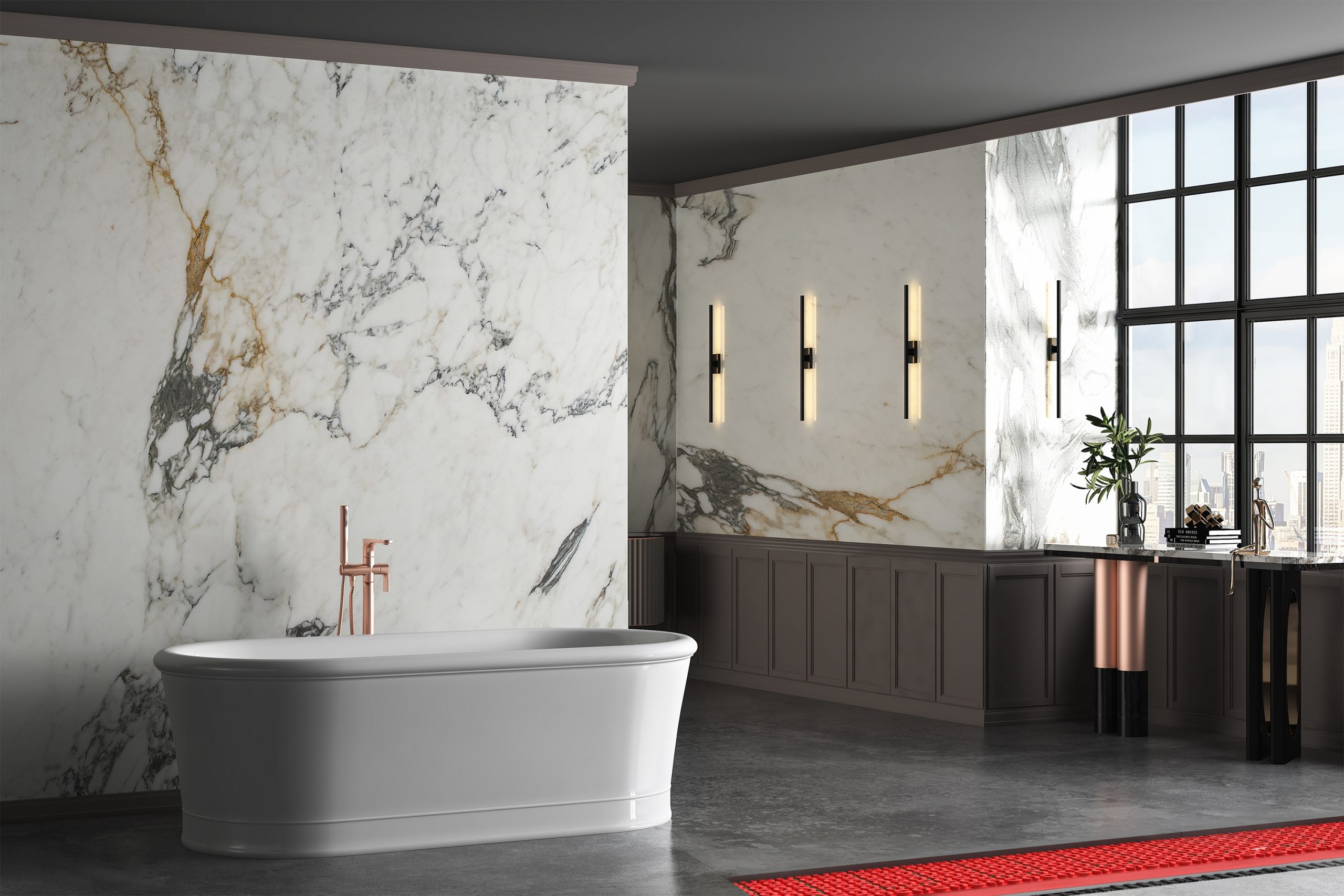 Renewable Technology for Low and Zero Carbon Homes – Ideal for use with Solar Panels and Batteries
The DCM-PRO Low Wattage System offers a sustainable underfloor heating solution for your home with low long-term running costs. Featuring a standard output of 55W/m², it is ideal for use in solar-powered homes with low levels of heat loss. Using this system with solar panels and accompanying batteries can provide a 100% renewable energy solution; allowing your home to be heated entirely by zero-carbon, self-generated electricity which can dramatically reduce the cost of your electricity bills. You can also use this system with a standard grid-based electricity source in energy efficient homes. The DCM-PRO low wattage heating cable can reduce the amount of power your home needs from the grid, reducing peak demands on the grid and enabling it to decarbonize. It can also facilitate the use of multiple appliances in your home at the same time without the worry of having to pay for an extra supply of power.
Wider Choice of Floor Finishes
The low wattage DCM-PRO is rated for increased floor finish resistances. This is possible due to the lower power rating of the system. This higher, maximum thermal resistance allows you to choose from an even wider selection of floor types so you can design your dream home with total freedom.
How Does the Decoupling System Work?
The self-healing decoupling layer of the DCM-PRO membrane contracts and expands to deal with lateral movements in subfloors, preventing damage from occurring to tiled floor coverings.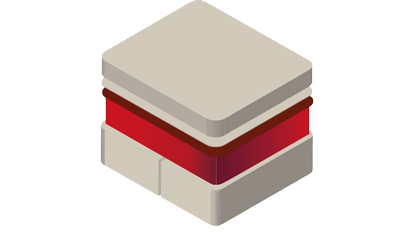 Beschermt vloeroppervlak van schade door het bewegen van de ondervloer.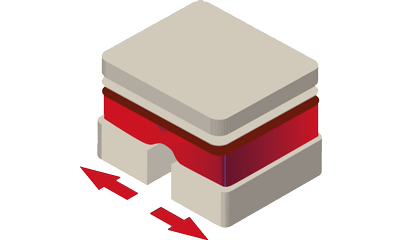 Klevende laag beweegt mee met uitzetten.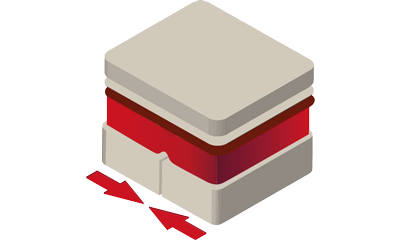 Klevende laag trekt samen en herstelt zichzelf wanneer de ruimte slinkt als gevolg van verschillende seizoenen.
Rapid UFH Installation
The DCM-PRO decoupling membrane has an effective self-adhesive backing that does not require additional adhesive to firmly attach it to a cleaned and clear subfloor, saving both time and cost.
The dimensions of the membrane are designed for convenient sizing so that 2m² of heating cable fits exactly 2m² of membrane. The spacing of the cable can, however, be adjusted to increase or decrease coverage and power. You don't need any tools to install the system – simply position the heating cable by hand within the castellations of the membrane.
DCM-PRO can be tiled directly onto, or if you're using other floor finishes that are certified for use with underfloor heating, the system can be covered with a layer of self-levelling compound. As the world's best-selling floor heating brand, this product features Warmup's market-leading warranties for your peace of mind.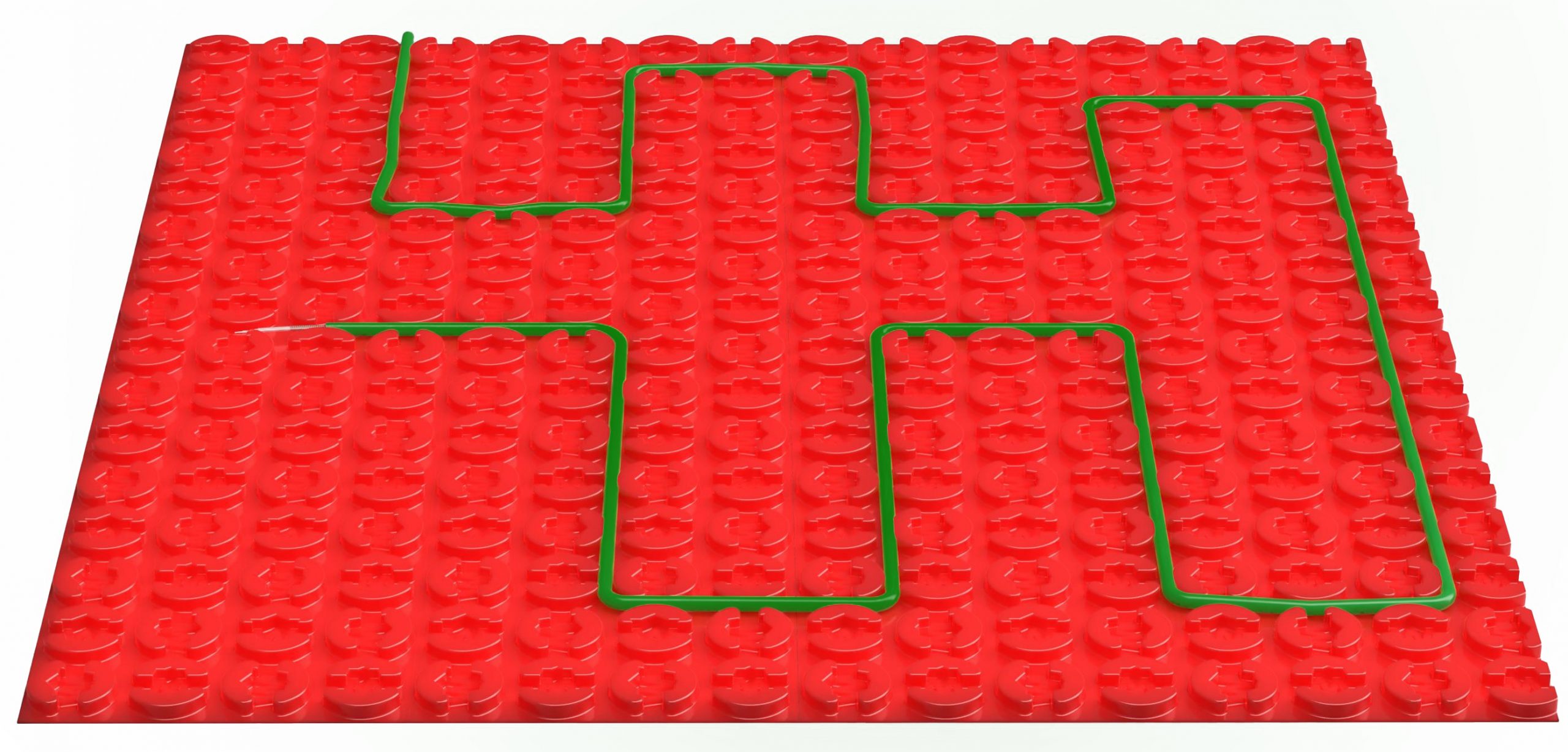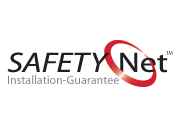 Safety Net Installation Guarantee
If you accidentally damage the heating system during installation, return it to Warmup and we will replace it with another heater of the same make and model free.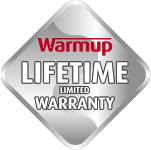 Lifetime Limited Warranty
This product comes with a Lifetime Warranty. We are completely confident in the standard of our products.
DCM-Pro Kabel
| | |
| --- | --- |
| Advanced | 220-230V AC, 50Hz |
| Cable thickness | 4.5mm |
| Inside insulation | Advanced Fluoropolymer (ETFE) |
| Outside insulation | Polyolefin (PVC) |
| Output power | 150w/m² (3 Castellations – 90mm) |
| IP Value | IPX7 |
| Power cable | 3m |
| Certificates |   |
DCM-PRO Mat
| | |
| --- | --- |
| Composition | Polypropylene membrane with self-adhesive backing |
| Thickness | 5.5mm |
| Spacing | 60mm, 90mm & 120mm |
| Customize | 1m² vel/ 15m x 1m rol |
DCM-PRO Cable
| | | | | |
| --- | --- | --- | --- | --- |
| Type | Cable length (m) | Assets (W) | Consumption (A) | Resistance (Ω) |
| DCM-C-1 | 11,1 | 150 | 0,6 | 353 |
| DCM-C-1.5 | 16,6 | 225 | 0,9 | 235 |
| DCM-C-2 | 22,2 | 300 | 1,3 | 176 |
| DCM-C-2.5 | 27,7 | 375 | 1,6 | 141 |
| DCM-C-3 | 33,3 | 450 | 1,9 | 118 |
| DCM-C-3.5 | 38,8 | 525 | 2,2 | 101 |
| DCM-C-4 | 44,4 | 600 | 2,5 | 88 |
| DCM-C-4.5 | 50,0 | 675 | 2,8 | 78 |
| DCM-C-5 | 55,5 | 750 | 3,2 | 71 |
| DCM-C-6 | 66,6 | 900 | 3,8 | 59 |
| DCM-C-7 | 77,7 | 1050 | 4,4 | 50 |
| DCM-C-8 | 88,8 | 1200 | 5,0 | 44 |
| DCM-C-9 | 100,0 | 1350 | 5,7 | 39 |
| DCM-C-10 | 111,1 | 1500 | 6,3 | 35 |
| DCM-C-12 | 133,3 | 1800 | 7,6 | 29 |
| DCM-C-14 | 155,5 | 2100 | 8,8 | 25 |
| DCM-C-16 | 177,1 | 2400 | 10,1 | 22 |
DCM-PRO Mat
| | | | | |
| --- | --- | --- | --- | --- |
| Type | Formaat | Lengte (mm) | Breedte (mm) | Ruimte (m²) |
| DCM-M-1 | Vel | 1,040 | 980 | 1 |
| DCM-M-15 | Rol | 15,300 | 980 | 15 |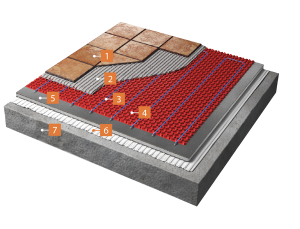 Carpeting
Tile adhesive / leveling compound
DCM-PRO cable
DCM-PRO mat
Insulation
Equalin
Screed