The hallway is often overlooked when it comes to design and heating solutions. For most people, it's simply a transition area from one room to another, or from the front door to the interior of your home. However, we spend a lot more time in the hallway than we imagine – so keeping this space comfortable is important. In this guide we'll explore how an underfloor heating system can bring radiant warmth to the communal spaces in your home. You'll discover:
The challenges of inefficiently heated hallways
Why UFH is perfect for bringing warmth to your entrance hall
The best electric floor heaters for landings
Great water floor heating systems for new-build corridors
How to buy hallway underfloor heating
Challenges of Underheated Hallway
Challenges of Underheated Hallway
Many halls may utilise an inefficient heating system that does not provide enough warmth for the space. Most heating systems are sized based on the square footage of the room, but since hallways are isolated from these heat sources in the adjacent rooms, warming them up will be difficult without their own dedicated heating solution. Letting your hallway remain underheated can make the other rooms in your home less comfortable, as the heat in the connected rooms is drawn out to warm up a cold hallway. So, it's a great idea to consider a new heating solution for your entrance hall, communal hallways and corridors or landing areas to keep your entire home cosy and comfortable all year round.
Creating a Warm Welcome in Your Entrance Hall with Underfloor Heating
Having a warm and inviting entrance foyer to arrive home to is a great feeling after a long day at work or running errands in the colder weather and installing an underfloor heating system is the best way to create this warm welcome. Warmup's water and electric floor heaters offer a more sustainable, energy-efficient method to heat your home and many of our systems can be installed in an entrance hall or communal hallway in under a day. Underfloor heating provides a discreet heating solution for hallways of all sizes and their low running costs means you can expect savings on your energy bills too.
Radiant Electric Underfloor Heating for Hallways
An electric underfloor heating system is an excellent option for adding heat to a hallway due to its many benefits such as:
There are no ducts or pipework required
It doesn't take up any wall space.
It is silent – fans aren't required to distribute the heat.
It is economical – heats the objects in the space, not just the air.
Doesn't produce hot and cold spots like conventional forced air units.
Warmup can provide an underfloor heating system for most types of floor finishes, including carpet, ceramic tiles, wood, vinyl and laminate.
Selecting the Best Electric Floor Heater
Warmup offer electric systems perfect for any hallway, whether you are renovating your home or building a new home from the ground up. Electric systems offer fast installation times and their low-profile design means they will have little-to-no impact on floor heights.
The Foil Heater is the perfect solution for halls with carpeted flooring. It is easy to install because it goes on top of concrete or wood subflooring with no self-levelling compound or adhesive required.
Warmup's StickyMat system is another great choice for hallways, as it has been designed for regular-shaped spaces such as hallways. The heating mats feature a self-adhesive backing and come complete with heat cables already attached. Simply roll out the mat, cover and level with tile adhesive or self-levelling compound and you are ready for the finished flooring!
Best UFH System for Tiled Halls
The DCM-PRO system was designed for hallways and landings with tiled floor finishes. It combines the heating cable and an anti-fracture membrane in the same package. The membrane serves two purposes:
It provides a structured path to lay the heat cable.
It separates the movement of the subfloor from the finished floor.
This is especially important when installing ceramic tile. Without the membrane, subfloor movement caused by environmental changes can cause fractures and breaks in the tile and grout. The separation that DCM-PRO system provides keeps the tile surface intact whenever such movement or settling occurs.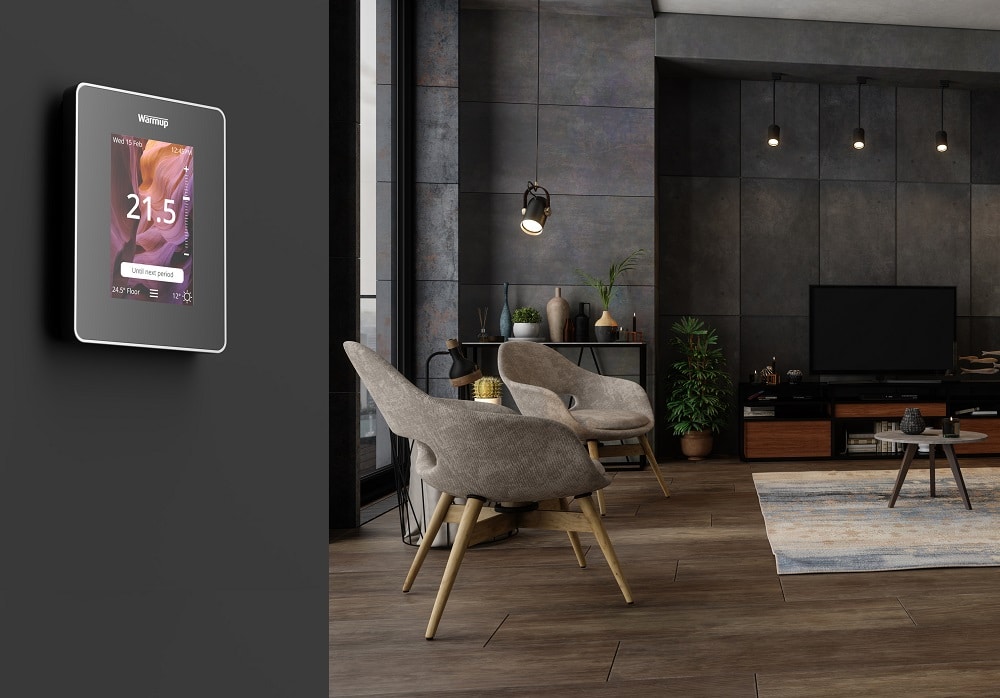 Choosing a Hydronic System for Corridors
Our range of water underfloor heating systems are perfect if you are building a new home or if your hallway renovation is part of a larger refurbishment project, as many of these systems require more space below your floor finish than electric systems.
The Total-16 Low Profile System is a great choice for halls with restricted ceilings as it is only 16mm thin. With in-built, high-quality insulation and aluminium diffuser plates for efficient heat dispersion, the low-profile design of this system offers true ease-of-use and is suitable for installation with almost all floor finishes.
Looking for a heating solution for bigger hall renovation projects or a new hallway as part of your construction project? Our Clypso System is a popular water floor heater for these kinds of projects. It is designed for use with floating screeded floors and can be used with both heat pumps and gas-fed boilers.
Maximising the Energy-Efficiency of Floor Heating
All our underfloor heating systems should be controlled with a system-specific thermostat for increased energy-efficiency and savings on your energy bills. The 6iE Smart WiFi Thermostat is our latest innovation in UFH control. Its premium design features a Smartphone touchscreen and can facilitate automatic heating while helping to save you up to £400 a year on your bills.
How to Purchase a Hallway UFH System
Warmup's radiant underfloor heating solutions are trusted for their high-quality design, ease of installation and market-leading warranties and after-sales support. You can find out exactly how much underfloor heating will cost for your hallway using our free online quoting tool. Simply enter the details of your project and we'll show you the best heating solution for your needs.
Our electric systems can be purchased through our network of retail partners and many of our water systems can be ordered directly through our quoting tool.
---